Crossword Tournament Program
37th Annual American Crossword Puzzle Tournament
March 7-9, 2014
This is from the previous tournament. Information for the upcoming tournament in Stamford, CT will be available early 2015.
Registration Information
| | |
| --- | --- |
| Competitor (all events beginning Saturday morning, including Sunday) | $180* |
| Noncompetitor (all events beginning Saturday morning, including Sunday, but not entered in tournament) | $135* |
| Friday evening (games and reception) | $80 |
| Sunday morning program and playoffs only (starting 11AM) | $30 |
*You may deduct $10 from this amount if payment is made and received by March 4, 2014.
Hotel Reservations
Space is limited, so act now! You are responsible for making your own room reservations!

The New York Marriott at the Brooklyn Bridge provides special low guest room rates ($225, single or double occupancy), available for contestants Friday and Saturday nights. The rates are $225/night PER ROOM (plus tax) regardless of your choice. This rate is guaranteed through February 19, 2014 (rates afterward subject to room availability).
By phone: Phone call in your reservation to the Marriott at 1-800-266-9432 and be sure to ask for the Crossword Tournament group rate
Be prepared with the following information:
Group name: American Crossword Puzzle Tournament
Dates: March 7-9, 2014
Number of people and choice single, double w/1 bed, or double w/2 beds
Your name, (firm), address, and who you are sharing with. Note: to avoid duplication, submit one reservation for room shared by two or more people
Arrival date (Friday, March 7, or Saturday, March 8)
Departure date (Sunday, March 9)
Credit card info (number and expiration date)
Note that reservations will be held until 6pm unless guaranteed for late arrival by a check for the first night's room deposit, company guarantee of payment, Club Marquis membership, or by one of the following credit cards: MasterCard • Visa • American Express • Diner's Club • Carte Blanche • Club Marquis
Check-in time is 3pm. Check-out time is noon.
Schedule
Friday, March 7
8:00PM

Warmup games and entertainment. Featuring:

NEW! Carnival of Puzzles

Ten noted puzzlemakers and game designers will each present a mini-puzzle competition or word game that will last approximately 20 minutes. The presenters will be set up at stations around the ballroom, with chairs arranged at each station.

Solvers will have their choice of any four of the following 10 puzzles, in any order. Every puzzle will be presented by its maker.

Adam Cohen
Genius at Work (novelty puzzle)
Paula Gamache
Diagramless Crossword
Shawn Kennedy
3-D Word Hunt
Roy Leban
USA Word Search
Frank Longo
Spiral
Pat Merrell
Snow Job, Find Mother, Togo to Go (3-puzzle suite)
Stan Newman
Digital Trivia Quiz
Fred Piscop
Split Decisions
Brendan Emmett Quigley
Marching Bands
Rich Silvestri
Cryptic Crossword

There will be 5-minute breaks between rounds. The best solvers in each round will win tokens, which can be turned in at the end of the evening for prizes.

10:00PM
Wine and cheese reception.
11:00PM
Awards for all the evening games.
Saturday, March 8
All day
Puzzle market — crossword books, word games, and other products of interest to puzzlers
9:30AM
Tournament sign-in
11:00AM
Puzzles 1, 2, and 3
2:30PM
Puzzles 4, 5, and 6
8:00PM
More games and entertainment. Featuring:

"'Clever' Clues" — a crossword game by Will Shortz
"Pre-Shortzian Puzzle Project" — an update from David Steinberg, with an aside on the status of female crossword constructors over the years
"Dr. Fill" — a talk by Matt Ginsberg, creator of the world's most sophisticated crossword-solving program, with a live presentation on Dr. Fill's performance on this year's Puzzles #1-#6

Sunday, March 9
9:00AM
Puzzle 7
11AM
"Crossworders Got Talent" — a variety show featuring ACPT contestants and officials, with music, dance, comedy, and games. (If you would like to participate, or would like more info, email Will Shortz at wshortz@aol.com)
Noon
Awards presentation and announcement of the playoff contestants.
12:15PM
Championship playoff, in which the top three contestants in Divisions A, B, and C compete in successive sudden-death rounds conducted on giant grids. Live, play-by-play commentary on the A and B finals by Ophira Eisenberg, host of NPR's "Ask Me Another," and Greg Pliska, puzzle writer and the musical director for the Tony Award-winning play "War Horse."
Scoring
Scoring is based on accuracy and speed. Score as follows:
10 points for every correct word you entered across and down
A bonus of 25 points for each full minute you finished ahead of the suggested solution time — BUT reduced by 25 points for each missing or incorrect letter (but not beyond the point the bonus returns to zero)
A bonus of 150 points for each completely correct solution
For the purpose of scoring, a "word" consists of any series of letters written between black squares in the grid, or between a black square and the border of the grid, whether it is a single word, a phrase, or otherwise.
Complete rules will be explained prior to competition.
Who Competes?
Contestants simultaneously compete in all events for which they are eligible:
Division A
Everyone
Division B
Contestants who have not won a Division A or Division B prize during their last seven tournaments
Division C
Contestants who have not finished in the top 20% during their last three tournaments
Division D
Contestants who have not finished in the top 40% during their last three tournaments
Division E
Contestants who have not finished in the top 65% during their last three tournaments
Age Divisions
Solvers 25 years and under (Juniors), 50-59 years (Fifties), 60-69 years (Sixties), 70-79 (Seventies) and 80+ (Seniors)
Regional Divisions
Solvers in each of 11 geographical regions:
Connecticut, Other New England, New York City, Long Island, Westchester/Upstate New York, New Jersey, Other Mid-Atlantic, South, Midwest, West, Foreign [map]
Rookies
Contestants competing for their first time. Rookies are not eligible for "D" or "E" prizes.
Prizes
Division A
1st Prize
$5,000
2nd
$750
3rd
$500
4th-10th (each)
Trophy
Division B
1st Prize
$300
2nd
$150
3rd
$100
Division C
1st Prize
$75
2nd
$50
3rd
$25
Each of Divisions D and E; Juniors, Fifties, Sixties, Seventies, Seniors
1st-3rd Prizes
Trophy
11 Regional Winners (each) [map]
1st & 2nd Prizes
Trophy
Rookies
1st Prize
$300
2nd
$150
3rd
$50
4th & 5th
Trophy
Plus Every prizewinner receives a New York Times crossword collection from St. Martin's Press.
About the Puzzles
All crosswords have been specially created and edited for the tournament.
Sample Puzzles:
The Judges
The judges and referees include leading names in crossword puzzling.
Brooklyn: Directions and Information
After 30 years, the American Crossword Puzzle Tournament left Stamford, Connecticut in 2008 for a larger venue: the New York Marriott at the Brooklyn Bridge.
Brooklyn Area Guide Directory [pdf] from the Brooklyn Marriott
Brooklyn Area Guide [pdf] Prepared by Stella Daily, Ken Stern, and Francis Heaney, including recommendations for restaurants, book stores, etc., as well as the following travel notes.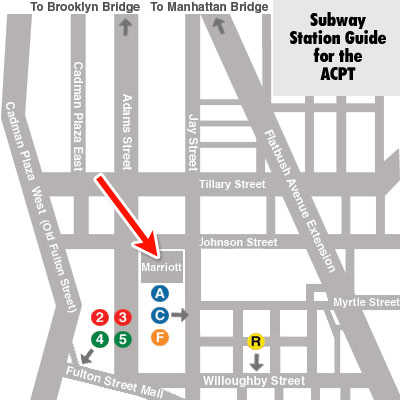 Flying Into...
LaGuardia: The most convenient airport to fly into is LaGuardia. A cab ride, not rush hour, should take about 20 minutes and cost around $25. Public transportation: from LaGuardia, take the Q33 bus to 74th and Broadway, and transfer to the 7 line to 42nd Street/Grand Central. Transfer to the 4 or 5 line and ride to Court Street/Borough Hall. This shouldn't take more than an hour depending on transfer timing, and if you have a MetroCard other than a single-ride, the cost is only $2.25 each way from the door of the airport to the door of the Marriott.
JFK has more traffic and will cost you up to $40 in cab fare. Public transportation: take the AirTrain from JFK and connect to the A train at Howard Beach to Jay Street-Metro Tech stop. It takes less than an hour. Airtrain JFK.
Newark Airport: Public transportation: Buy a New Jersey Transit ticket (adult $15 one way) to Penn Station from the machine at the Airtrain station in each terminal. Ride the free Airtrain to Newark Airport station, then get on a Northeast Corridor or North Jersey Coast Line and ride to the end of the line. At Penn Station, transfer to a 2 or 3 train ($2.25) to Court/Borough Hall.
Getting around: The Brooklyn Marriott is extremely well-connected with public transportation. You can catch the A, C, and F trains at the Jay Street-Metro Tech stop, one block east of the hotel. (A/C will get you to the west side of Manhattan; F train runs along 6th Avenue in Manhattan.) You can also get the 2,3,4,5, and R trains (there's also an M train but it only runs during weekday rush hours) at the Borough Hall/Court Street stop, one block west of the hotel. 2/3 trains run along 7th Avenue, 4/5 will get you to the east side (Lexington Avenue), and R runs along Broadway. Check www.mta.info for any service changes — weekend service tends to be messy, so it's a good idea to look at the service advisories beforehand and decide whether another train might get you where you need to go faster.
Parking: The best thing to do is to leave the car at home and take the subway. But if you must drive, park using the hotel rate. Street parking is unnecessarily complicated in this area.
View Larger Map
Solving At Home
Now you can take part in the American Crossword Puzzle Tournament — and find out how you'd score — from your own home!
On Your Computer: Solve the puzzles online on the weekend of the tournament, or at anytime throughout the year. Standings of online competitors are constantly updated. Click here for details.


By Mail: Receive this year's puzzles (upon completion of the tournament) by mail, solve them and return your solutions to us with your times. We'll judge your puzzles, send you your scores, and tell you your ranking in every event in which you were eligible. To Register, click here.
If you need help, call Helene Hovanec at 718-797-0264 (HeleneHov@aol.com).
For questions regarding the hotel, call the Brooklyn Marriott at 718-246-7000.
---