Source:
ACESHOWBIZ.com
Date: March 13, 2010
Byline: unsigned
First Look of Crossword Master Will Shortz on 'HIMYM'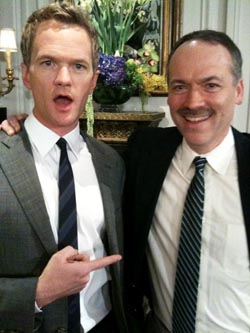 Neil Patrick Harris admitted that he's a fan of the NY Times crossword editor whose puzzles amuse Bill Clinton, Ken Burns and Jon Stewart among others.
Neil Patrick Harris, the cast of "How I Met Your Mother" who is keen on sharing the first look of guest stars on the show, has just posted a new picture of him and the latest cameo. He gave a clue on his tweet, "Highbrow HIMYM cameo — ten letters: Death Document + Legless Pantz. I'm a fan. I geeked out."
The word play correlates to the identity of the man beside him. It's Will Shortz, the New York Times crossword editor who will play himself in the half-hour comedy. The show's publicist Lauren Kamm confirmed that the episode Shortz appears in is called "Robots vs. Wrestlers" and it is scheduled to air in May. Shortz will be a guest at a fancy party that the show's gang crashes.
In its fifth season, "HIMYM'" continues to add guest stars to keep the rating above the water. Two episodes have aired featuring Carrie Underwood and Jennifer Lopez separately but there will also be an appearance from Arianna Huffington of The Huffington Post. According to some reports, she would be part of an episode where there is a "high-falutin' New York party", meaning there is a big chance Huffington is in the same episode as Shortz.
---
---