Source:
The News-Gazette.com
Date: April 3, 2008
Byline: Paul Wood
Crossword champ fills in the blanks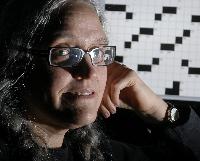 John Dixon
Anne Erdmann, an environmental geologist at the Illinois State Geological Survey is a crossword puzzle champion.
SAVOY — What's a four-letter word for something that's raggedy? Here's another clue: she's not "the other Boleyn girl."
The answer is Anne, as in pony-tailed, bespectacled Anne Erdmann, a local geologist who won a national contest for crossword aficionados.
Her first place was in Competition B, the second tier of puzzlers, and next year she will compete in Competition A.
Every March since 1978, the winners of the American Crossword Puzzle Tournament have been crowned in Connecticut. This year, founder Will Shortz, the crosswords editor at the New York Times, moved the contest to Brooklyn, where a larger hotel could accommodate the contestants.
"It was great. You could stagger back to your room after doing puzzles all night," Erdmann says of the Brooklyn hotel.
Shortz, a native of Crawfordsville, Ind., and his tournament are the subject of the 2006 documentary "Wordplay." Erdmann says he's a funny guy, who "makes outrageous comments with a straight face."
Crosswords puzzlers, or "cruciverbalists," are "a tightknit collection of geeky people," says Erdmann.
"I walked in and felt right at home" when she entered her first national tournament in 2007.
So close are these word lovers, spread across the world, that they rose to the e-mail occasion to find clues for Erdmann's first name, some of them fairly tough, like "namesake of a 'lace'" or "Bonny lady pirate" — one Anne Bonny, a pirate who dressed up as a man.
Erdmann, 48, loves tricky clues, even when they trip her up. A favorite is "once across the Rio Grande."
The answer is "eleven."
Erdmann was able to fill in the blanks based on surrounding answers, but she had to put on her thinking cap to figure out the meaning. If you know Spanish, as she does, it turns out that "once" means "eleven," once you've crossed the Rio Grande into Mexico.
Words that make her cross are old-style clues based on obscure words only a puzzle maker would know.
"The old New York Times (writer) was into exotic words like 'village in Bulgaria,'" she said.
Puzzles work well with short, vowel-swollen words, she said, so experienced puzzlers have often come across words like "Elia," the first name of writer/director Kazan, or "Lake Erie," or "anoa," an Indonesian buffalo, or Julius Caesar's "veni, vidi, vici."
Erdmann is a fan of Shortz's tendency to make clever clues for common words.
She used to do the New York Times Sunday puzzle reprinted every week in The News-Gazette. Now she does the Times puzzle every day, along with several others.
She doesn't own a TV. She dislikes movies. So she reads.
Her mother, a nurse, got her into crosswords. Growing up in California, Erdmann recalls, she liked the sense of completion from filling in every last blank.
"When you're coloring with crayons, you never really known when you're done," she says. "I like completeness."
She also picked up some word love from her dad, a printer who was surrounded by boxfuls of hand-set typography.
But she never dreamed of crossword fame.
"I knew when I was a little girl that I wanted to be a scientist," she says.
Erdmann is now the director of the Center for Transportation and the Environment at the Illinois State Geological Survey.
When she isn't geologizing, she's thinking about next year's contest. She's great on accuracy, but speed is also important.
"I'm going to have to get a timer," she says.
If you know where to get a crossword puzzle timer, give her a call at the geological survey.
---
---