34th ACPT • March 18-20, 2011
Don Christensen

Congratulations!

Dan Feyer
Tyler Hinman
Anne Erdmann
Francis Heaney
Trip Payne
Ellen Ripstein
Howard Barkin
Dave Tuller
Jon Delfin
Kiran Kedlaya

B division

David Plotkin
Ken Stern
Richard Kalustian

C division

Jeffrey Dubner
James Lehr
Andrew Snyder

See left panel for all results.
Capsule History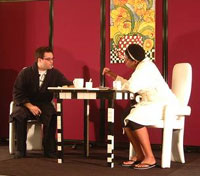 Don Christensen
"Life Is Shortz"
A U.S. vs. U.K. cryptic crossword contest, featuring one puzzle made in each country, was held on Friday night. Britain's Mark Goodliffe won, finishing first on both puzzles. Other weekend highlights were a crossword magic performance by David Kwong, a team puzzle extravaganza based on TV's "Amazing Race" by Greg Pliska and John Chaneski, and a crossword play, "Life Is Shortz," written and directed by Lee Marcus. BIC and Penny Publications sponsored the tournament for the first time. Cartoonist Roz Chast presented the prizes. Dan Feyer won for the second year in a row.
Will Shortz
Capsule history of all previous years.
---
Pictures from the Tournament
---
Blogs
If you blogged the tournament, Let us know and we'll add a link!
---
YouTube Videos
---
In the News
---
More stuff
---
Solving Perfection
The following 34 contestants solved all 7 puzzles with no mistakes.
Peter Braxton, Patty Buethe, Jon Delfin, Joe Dipinto, Anne Erdmann, Dan Feyer, Amy Goldstein, Peter Gordon, Francis Heaney, Tyler Hinman, Susan Hoffman, Will Irving, Will Johnston, Bruce Kahn, Richard Kalustian, Joshua Kosman, Elaine Lippman, Frank Longo, Matt Matera, Marc Maximov, Rich Norris, Emily O'Neill, Trip Payne, David Plotkin, Arnold Reich, Ellen Ripstein, Richard Romano, Dan Sadoff, Andrew Snyder, Ken Stern, Roberta Strauss, Dave Tuller, Robert White, John Wilson.
---
Constructors and Officials — 2011
Director
Will Shortz
Constructors
Kelly Clark, Bonnie L. Gentry, Vic Fleming, Maura Jacobson, Pete Muller, Mike Nothnagel, Merl Reagle, Mike Shenk, Ashish Vengsarkar, Narayan Venkatasubramanyan. Friday night puzzles: Don Manley and Richard Silvestri.
Click for short biographies and pictures of this year's puzzlemakers
Coordinator
Helene Hovanec
Webmaster
Doug Heller
Scoring Programmer
Matt Ginsberg
Database Preparer
Joe Cabrera
Online Tournament Manager
Peter Ritmeester
Photographer
Don Christensen
Nametags
Mike Shenk
Playoff Announcers
Neal Conan and Merl Reagle
Special Guest
Roz Chast
Judges and referees (in alphabetical order)
Deb Amlen, Leslie Ann, Doug Ashleigh, Katie Carroll, Yang-Yang Chen, Mark Danna, Nikhil Dhingra, Joe DiPietro, John Dunn, Vic Fleming, Nancy Fried, Ethan Friedman, Rayzi Furer, Matt Gaffney, Paula Gamache, Bonnie Gentry, Matt Ginsberg, Elizabeth Gorski, Doug Heller, Carol Henry, Helene Hovanec, Joan Hume, Marvin Hume, David Kahn, Linda Kahn, Francine Kaplan, Marilyn Kelly, Ian Kerrigan, Bob Klahn, Joan Kuhn, David Kwong, Jeff Levene, Donna Levin, Steve Levy, Randie Lipkin, Ian Livengood, Pat McGlashan, Sharen McKay, Pat Merrell, Nicole Mobley, Pete Muller, Bob Nacht, Irmari Nacht, Stan Newman, Mike Nothnagel, Evan O'Donnell, Jim Page, Nancy Parsons, Fred Piscop, Iris Prager, Brendan Quigley, Merl Reagle, Laurie Resnick, Kenisha Rhooms, Carmelita Riley, Peter Ritmeester, Sara Sadin, Nancy Schuster, Mike Shenk, Rich Silvestri, Michael Smith, Lloyd Stableford, Donna Tessitore, Jessica Tran, Ashish Vengsarkar, Bruce Venzke, Emily Volz, Byron Walden, Penny Weinstein, Brad Wilber.
---