39th ACPT • April 1-3, 2016
---
Puzzlemakers for the 39th American Crossword Puzzle Tournament
Constructors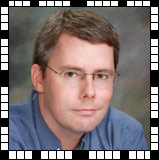 Patrick Berry of Athens, Ga., is on nearly everyone's list of favorite crossword constructors — often at the top. He's famous for the high quality and smoothness of his fills. Patrick's puzzles appear regularly in the New York Times and Wall Street Journal. He is the author of the Crossword Constructor's Handbook, the most useful volume ever written on how to construct crosswords (available at www.aframegames.com). Patrick says it's OK to repeat his photo from last year. "I don't look much different really … that's the benefit of going gray early."
Patrick Blindauer is a senior associate at the accounting firm Crowe Horwath, as well as a puzzlemaker, actor, and letterboxer. His puzzles appear in the New York Times, the American Values Club, Daily Celebrity Crossword, and his own website (www.patrickblindauer.com). Every August, with Brian Cimmet, he cohosts Lollapuzzoola, a one-day crossword tournament in Manhattan that is famous for its playfulness and sense of fun. He and his wife live in St. Louis with their now four-month-old baby girl, Magnolia.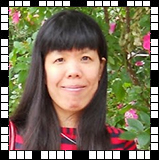 Zhouqin Burnikel grew up in Xi'an, China, and moved to Minnesota in 2001. She started making crosswords in 2010, partly as a way to learn English, and was mentored by veteran constructor Don Gagliardo. Together they have made over 100 puzzles for various publications. Zhouqin created the L.A. Times Crossword Corner blog in 2008. The name Zhouqin comes from the first two great dynasties that ruled ancient Xi'an — the Zhou and the Qin. It is pronounced something like "ZHOH-chin."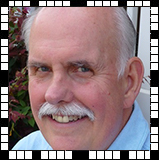 Mark Diehl is a recently retired dentist with the Veterans Affairs Hospital in Palo Alto, Calif. He has constructed 60 New York Times crosswords since debuting with a Sunday puzzle in 1984. Mark co-wrote, with Kevin McCann, the 21st Century Crossword Puzzle Dictionary. He assisted David Steinberg with the Pre-Shortzian Puzzle Project by personally digitizing over a quarter of the New York Times crosswords (4,000+) published prior to Will Shortz starting in 1993. Mark enjoys life in San Jose with his wife, Lee Ann, and kids and grandkids.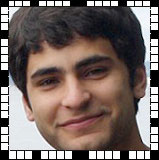 Joel Fagliano was recently named digital crossword editor at the New York Times, helping to produce packs of puzzles for sale as well as personally creating the Times's daily online 5x5-square mini-puzzle. He also works as Will Shortz's assistant on the Times's regular crosswords. Born and raised in Philadelphia, Joel roots for any Philadelphia sports teams, whether professional or collegiate. He now lives in what he describes as a postage stamp-sized apartment in New York City.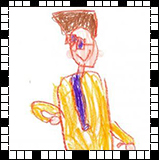 Kristian House owns the Monkey Barrel Toys store in Oneonta, N.Y. Previously he taught honors-level math and advanced placement calculus at a high school in Springfield, Mass. Like a lot of crossword constructors nowadays, Kristian got started after seeing the 2006 documentary "Wordplay." He has had 14 puzzles published in the New York Times, starting in 2009, as well as others in the Los Angeles Times. In 2014 he sang in the ACPT talent show. Look for him at this year's tournament – you'll recognize him from his Facebook profile picture, used here.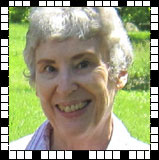 Lynn Lempel remembers spending childhood sick days with puzzle magazines. She started constructing crosswords in the 1970s while working at a small newspaper. Later she was a college instructor of reading and composition, until a class from hell, as she puts it, prompted a change to stay-at-home puzzlemaker. She lives in Daytona Beach, Fla., with her husband, and now has a six-month-old grandson in Cambridge, Mass., who, she says, had just better grow up to love reading and crosswords!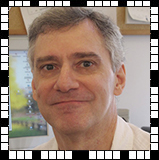 Mike Shenk is the crossword editor of the Wall Street Journal, often himself being the constructor. His work appears under the bylines Marie Kelly (an anagram of Really Mike), Alice Long (an anagram of Collegian, the Penn State newspaper for which he once made puzzles), and several others that no-one has figured out yet. Mike is a crackerjack solver himself, besides being very neat. Once at a crossword tournament in the 1980s he pulled off the remarkable feat of winning the handwriting award while simultaneously finishing in the top 10.
Director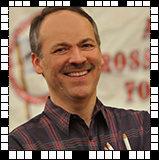 Will Shortz is the crossword editor of the New York Times and puzzlemaster for NPR's "Weekend Edition Sunday." He founded the American Crossword Puzzle Tournament in 1978, when he was 25, and has directed it every year since. Will owns the Westchester Table Tennis Center, in Pleasantville, N.Y., where he plays after work. He is the guardian for an 18-year-old table tennis phenom from Beijing, who will become eligible for U.S. citizenship in 2018. In June, if all goes well, Will will travel to Hawaii and become the first person ever to play table tennis in all 50 states.
---
---